When Nadine posted about this link-up, it sounded like too much fun. I remember playing "never have I ever" in high school/college and even at sleepovers in middle school. It's kind of like "truth or dare" without the "dare".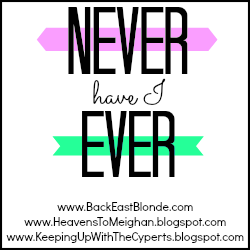 Never have I ever...


Been stung by a bee. Thankfully or else I'd freak the heck out.

Gone on a cruise. Probably never will, those things scare me! And I get sea sick.

Changed my hair color dramatically. I've added highlights and low lights but always kept my natural color.

Had the nerve to take outfit pictures outside. I feel so silly!

Been ziplining. I WANT TO SO BAD!!!

Gone to a music festival. I've been to plenty of concerts but no Sunday in the Country or anything like that. Am I too old now?

Been to Vegas. I know!!!
Liked wearing heels. I just don't. I've come to accept I'm a "fancy jeans and t-shirt" kind of girl.
Been arrested. Thankfully ;)
Liked working out. Every form of exercise is like torture for me. I eat healthy or else I'd really be screwed.
Ridden in a helicopter. I think I'd be way too scared!
Been able to do a sock bun. Why is it SO hard?
So what about you? Have you ever?